Canadian loss is Americans' gain as drought hits Saskatchewan

Strong dollar has hurt U.S. competitiveness in other nations
Italians can't seem to get enough U.S. wheat, giving a boost to exporters facing their worst year in four decades.
The nation bought about 70 percent more American durum wheat, the variety used to make pasta, than at the same time last year, government data show. That's because U.S. prices are cheaper than Canada, normally the top supplier, after a drought in Saskatchewan and Alberta this year.
It's a small bit of good news for U.S. exporters, who are battling to compete in most international markets with the dollar near a 12-year high and ample global grain stockpiles. Spot prices for U.S. durum wheat are $265 a metric ton from the Great Lakes or $280-$300 from the Gulf of Mexico, cheaper than C$397 ($290) for Canadian supplies shipped via the St. Lawrence River, according to U.S. Wheat Associates and Canadian government figures.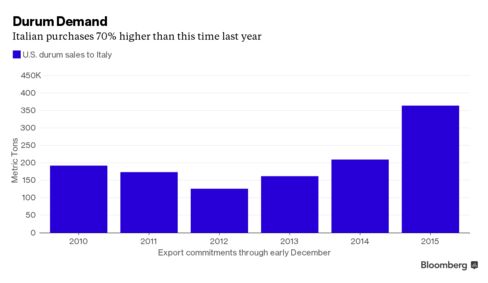 "We have been gaining some market share," said Rutger Koekoek, a marketing specialist at U.S. Wheat's office in Rotterdam. "We had a good production year and the quality is great, so we have a lot of very high-quality U.S. durum wheat."
U.S. durum production jumped by more than 50 percent to a five-year high this year, according to the Department of Agriculture. Canada's crop increased just 3.8 percent as the drought eroded yields and limited the impact of much larger planting.
As a result, Canada is sending less durum overseas. Exports are down 28 percent since the 2015-16 season began in August, and shipments to Italy through October were about 40 percent of the prior year's pace, according to the nation's grain commission.
Pizza, Panettone
Canada is usually the top supplier to Italy, the European Union's biggest durum grower, while U.S. and European exporters including France, Spain and Greece provide much of the rest, Koekoek said.
The U.S. has sold 614,300 tons of all wheat varieties to Italy since the marketing year started June 1, according to the USDA. That's more than any 12-month period in the previous five seasons. Durum makes up about 60 percent of those sales and hard, red spring wheat the rest. While durum is milled into semolina, a yellow flour used for pasta, hard, red spring is mostly a bread wheat that Italians also use for pizza crust and panettone.
Slowing Sales
Italy represents only a small percentage of total U.S. wheat sales, and the country is still struggling with its other customers. Wheat export commitments have slumped 15 percent from last year to 14.8 million tons, the slowest pace of sales for this time of year in at least six seasons, according to USDA numbers.
Wheat prices on the Chicago Board of Trade, the global benchmark, are down 16 percent this year to $4.94 a bushel.
Total U.S. sales by the end of this season may only reach 21.8 million tons, the smallest level of exports in 44 years, the agency estimates. A strong dollar has made U.S. grain more expensive for overseas buyers, while Russian and French wheat have been more competitive.
"Any plus is something very positive," Koekoek said. "We have to compete in a world marketplace against Russia, Canada, Australia and others, so when the dollar is strong compared to their currencies, that puts us at a competitive price disadvantage."
(Source – http://www.bloomberg.com/news/articles/2015-12-11/viva-la-pasta-italy-dishes-up-rare-good-news-for-u-s-wheat)